welcome
Doyle Hereford Ranch was founded in 1964, in the small town of Wolfe City, Texas by Dale Doyle and son Mike Doyle. We lost Dad on Fathers Day in 2011 but we wanted to keep the cow herd and expand. He had taken the ranch through the tough times and kept the registered herd going when there was not much demand for horned Hereford. Wow, that has changed and we are reaping the benefits of his hard work. The cowherd consists of 160 quality horned Hereford cows. We have purchased herd sires from ranches in Montana, South Dakota, North Dakota, Oregon, Idaho, Oklahoma, Kansas, and New Mexico. We have been very selective on the dams or our herd sires and this has enabled us to have the excellent females we are producing today. They perform or they don't get the Rocking D Brand. Our cowherd bloodlines are Line one and Mark Donald. We have found this to be an excellent cross with plenty of length, thickness and excellent producing females. Our bulls are developed on grass and wheat and cubes. We do not push our bulls and get them fat and they are ready for service immediately.
They are usually developed in a 100 acre pasture or more. The females are bred to low birth bulls and are bred to calve from 24 to 26 months of age. With the ranch being located in Northeast Texas and East of Interstate 35, our cattle have no trouble adjusting to the South Texas area and really turn it on going West. We have sold one rancher in West Texas 10 to 20 bulls a year the last 15 out of 16 years. Most of our sales are from repeat business. We would welcome you to come by the ranch and look at our cattle anytime. We sell the bull from weaning to Two year olds and the females are usually sold in groups of 10 either bred or open. We also sell some mature cows from time to time. We also sell show heifers to FFA students. We sell cattle year round as we have a Fall and Spring breeding program. Thanks for reviewing our site and would welcome your call or email.

Mike cell# 214-240-4538
mdoyle0326@yahoo.com
LATESTNEWS...

One of Many fall pairs selling
4 year old lights female with 6 month old 215z Bull calf
CLICK HERE FOR 2018 SALE RESULTS


SR DIABLO 613A


# 1 horned Rib Eye and Carc Wt EPD of the breed
Wow!! He is the Real Deal!
* 14 horned bull and 1 poll bull for sale
3-26-19 - Private treaty
* Show heifer prospect for sale mid April
* 7 embryo sired by Bell Air, 2 embryo heifers by Catapult 109, 8 by Diablo 613A, 2 by CL1 Domino 215Z

Click above to enlarge!

MOTEL ACCOMMODATIONS
Holiday Inn Express, Greenville, Texas 903.454.8680 94.00 plus tax till 5-18
Best Western Plus, Greenville, Texas 903.454.3700 89.00 plus tax til 5-18
Holiday Inn Express, Bonham, Texas 903.486.6111
Comfort Suites, Greenville, Texas 903.259.6343
Hampton Inn, Greenville, Texas 903.457.9200

DOYLE HEREFORD RANCH CELEBRATES 50 YEARS!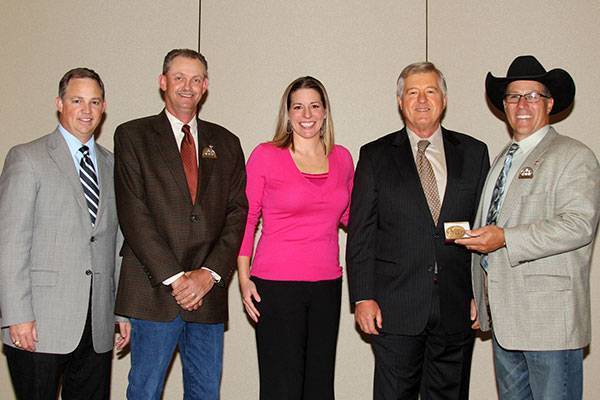 [
CLICK HERE FOR MORE INFO
]