testimonials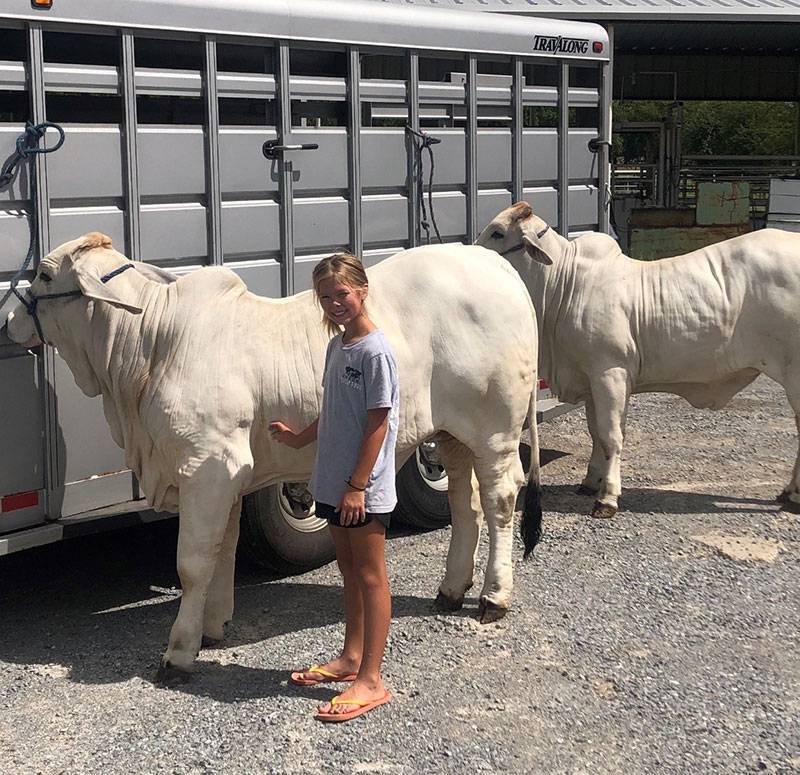 Thanks for the Schultz family and Jayce for purchasing a Diablo son and a Diablo grandson for their Certified F1 Braford herd in Okeene, Oklahoma. They were on the way back from Jayce winning some ribbons at the Brahman show in Texarkana. Thanks for buying the Doyle Difference!
Great to see a great heifer calf sired by one of the three bulls I bought in your sale in 2017. The calves are looking great. See you March 17

- B R Clarksville, Texas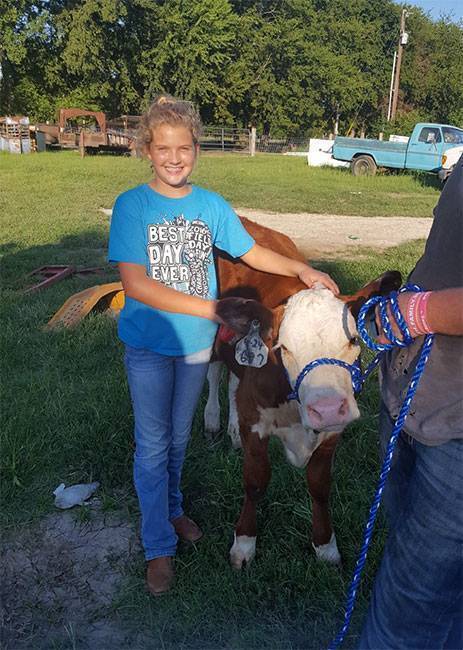 Kaitlyn bought her first show heifer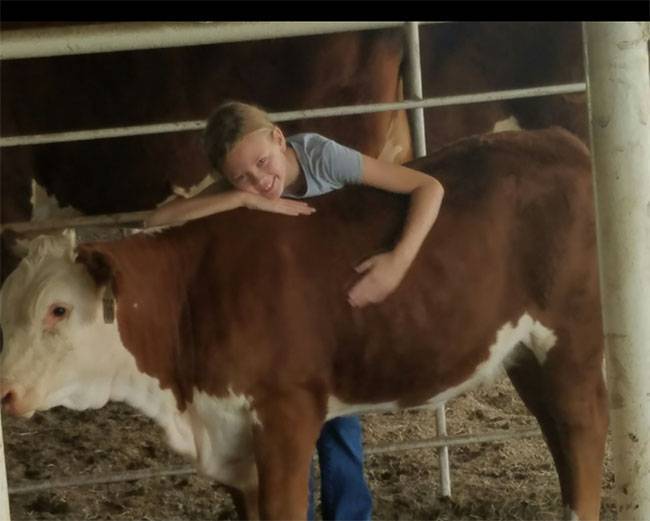 Gracie purchased her first heifer and the immediately were buddies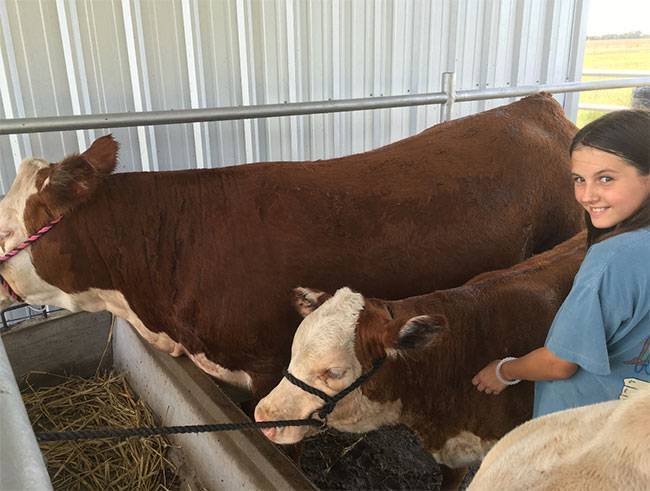 Kayla had great results last year and came back to buy a half sister to her last years winning heifer

August Month for young ladies buying Show prospects.


As a producer of quality commercial replacement females, lower birth weights and Higher weaning weights are genetic traits all cattlemen desire. We believe Doyle Hereford sires posses the genetics that, when combined with with our commercial Brangus/ultra black females, allow us to produce the best of those traits for our commercial replacement females.
K Wood
First place polled Hereford East Texas State Fair Tyler, Texas

Hello this is Brennan Murray Chance and Baylee Massey's brother. I just wanted to thank you again for the opportunity! At the show this past weekend, which was the East Texas State Fair, I had many come up and ask who she was out of and where I got her. I just thought you would want to know that we are doing great! And thank you again for helping me to find what my passion is!
Thank You.
I told you to watch for Kaylee.

Her heifer has won I Grand champion, 3 Reserve Grand Champions and 8 first place ribbions. Way to go Kaylee!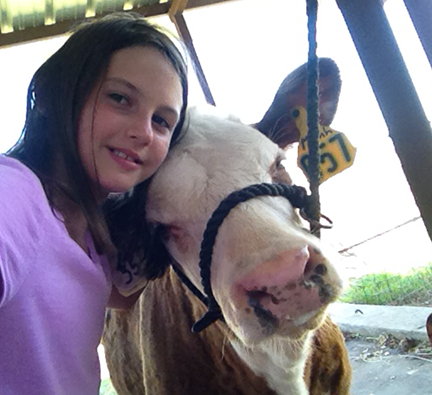 They were buddies after one week!

Watch out for Kaylee Beason and Lady Manhattan on the show circuit!
The Diablo calves, my gosh, yes thick across the top, all the way from shoulders, square hip and deep! I will let you know next week how many mores straws of Diablo and 234 I will get next week..
Brenda
I had not used a Hereford bull in over thirty years and I decided to try a DHR bull. WOW, I love my black baldies. They calve easy and outgrow anything in my pasture.
Joel
Texas breeder Larry Collins, Collins Cattle Company, has made four purchases in three years
Because up until now, we have only sold cattle by private treaty, repeat business is our bread and butter. Breeders like these who continue to make quantity repeat purchases over several years are vital to our operation.

We believe what keeps our buyers coming back, are the larger type Herefords we raise that work so well for Brahman-influenced cattle.

We want you as our next repeat customer – so, we invite your inspection of our herd anytime.
When setting out to start our registered Black Hereford breeding program, we had three main criteria to look for:

Predictability
Performance
Pedigree
We found all three in the Hereford cattle that we purchased from Doyle Hereford Ranch. Mike has done an outstanding job offering cattle that any commercial or registered cattleman will appreciate.


F5 Ranch
Canton, TX
Fall 2014
We came to Texas to buy one maybe two Herefords bulls and Left with FIVE!. We were very impressed with the quality of the cow herd and herd bulls. By the time we left my wife had decided to come back in May and get some females to start a registered herd of Herefords. We are looking forward to getting some Rocking D females.

Brain and Melinda
Arkansas
I got my first 5 registered Hereford cows and a herd bull prospect in the Doyle Hereford ranch sale in 1988. Since then I have bought several herd bulls from the Doyle's and I now have a registered herd of 80 females. The Herefords have been good to me and I look forward to adding some more females at the sale on May 2, 2015

3-B Herefords
Paris, Texas
The most effective way to do it, is to do it!

This 8-year-old boy won Reserve Division Champin with a heifer he bought in our sale last year. He was so proud of his accomplishment that he wore the banner all day and the next day around his neck.
I wanted to send you a picture of Lady Rancher (Reba) and tell you again how much I appreciate you selling me excellent cattle to show. After my success with Lady Sensation, I knew you would help me keep it up and you have. I received Reserve Grand Champion Hereford at the East Texas State Fair last weekend and will be participating in the Open Hereford show tomorrow (Oct 3). I will let you know how that goes.

Also, I will be participating in the open and junior shows next weekend at the State Fair. Wish me luck!!

Dalton Redmon
Mr. Doyle I got reserve breed champion at the
Paris Jackpot show on 10-3-2015